Search Engine Optimisation Services
Top 20 position on Google, Yahoo and MSN GUARANTEED
"How Much More Money Would You Make if your web site is shown up on the Top 10 positions on Google, Yahoo and MSN?"


For more than 8 years, Apex has developed and provided products and technologies to the search engine optimisation and internet marketing (SEM) industry.

Apex has acquired

Tens of thousands of businesses that rely on the Apex products to promote their business on the internet.
Thousands of internet consultants and Search Engine marketing specialists that have used Apex's technologies to provide internet marketing services to the business community.

Apex has developed

The world #1 best selling SEO (search engine optimisation) and PPC(Pay-Per-Click) technology that it has sold throughout the world for the last 7 years.
Apex has launched
A range of search engine optimisation and internet marketing services that combined with their current technology and world leading products will provide the end user with the option to have Apex completely manage their website marketing.
Why do you need Search Engine Optimisation Service?
Search engine optimisation is a series of techniques designed to increase visitors to a website by increasing the websites position in the major search engines.
Why do you need Search Engine Optimisation Service?
Search engine optimisation is the most cost-effective form of marketing available
Search Engine optimisation will bring more traffic to a website than any other form of advertising
SEO can help you to win new customers and increase your website traffic
SEO can help you to generate more leads for your business
"We've Helped More Than 50 Clients Just Like You Unleash The Power of Natural Search Engine Optimisation(SEO) in the Past 6 months"


Since launching our Apex Service division

We are very excited to let you know that we have helped more than 50 clients to get their web site to the top 20 positions on Google, Yahoo and MSN in the past 6 months!
With a 98% success rate, we would now like to offer this great opportunity to all of our clients and GUARANTEE Top 20 position on Google, Yahoo and MSN from Apex Pacific.
Please take a look at some of the results that we have achieved for our happy clients:


Client #1 - www.curtisaviation.com.au
After running the SEO Service for this client, they now have top ranking positions in Google for the majority of the keywords that we were targeting. They now have over 280 keywords in the top 10 position on Google, Yahoo and MSN! This has helped them to bring in many new customers without the expense of traditional advertising such as Radio or Television.
Please type the keyword "flying school sydney", there are 1,280,000 web sites competing for the same keyword. Now www.curtisaviation.com.au web site secures a #3 position, and generate more than $1,000 sales every day.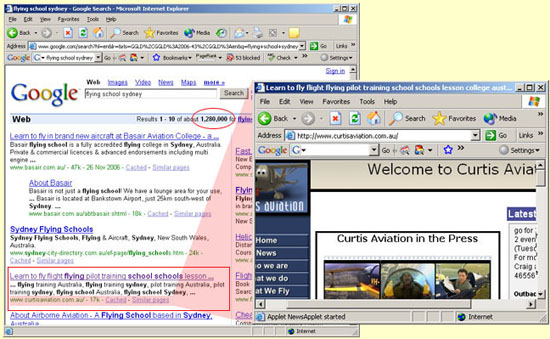 Craig Marshall- CEO of Curtis Aviation – www.curtisaviation.com.au

"I just wanted to take a few moments to write to you and let you know how pleased we are about the great results that Apex Pacific has provided, through your Search Engine Optimisation service. Since our website position has increase and we rank in the top page of Google for many of our products… Thought you'd like to know that we're seeing great changes even though you're not totally finished. Great job!!"


Client #2– www.sanspot.com
Sanspot wanted to be in top pagoes Of Yahoo, MSN and Google for their website under terms specific to their business so they could attract a high rate of conversions for their shopping cart. We developed an effective keyword strategy to target 'buying' keywords and attract customers who were looking to purchase. As a result of targeting these keywords Sansport rapidly improved their Visitor/Conversion ratio.
When typing "Storagetek take equipment", www.sanspot.com web site shows on #1 position on Google.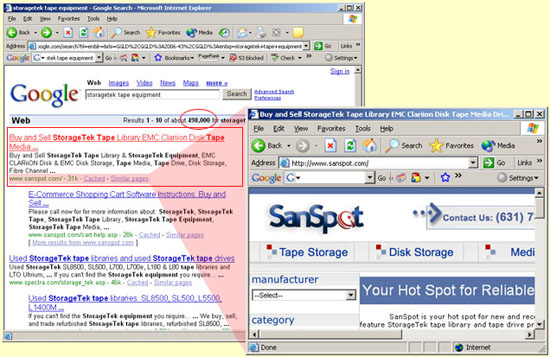 Larry Fulkerson- Owner of SanSpot- www.sanspot.com

Stop! If you are still burning your money on Google Adwords !!
Peter spent $5,000 per month on Google Adwords before using our service. Now, his web site generate $10,000 sales per week without a cent !

Client #3– www.corprat.com
After 3 months of the implementation of CorpRat's search engine optimisation campaign, Apex Pacific has achieved several top ten positions for the site across the world's most important search engines and directories. Now, CorpRat's web site attracts 200 quality visitors per day (increase by 2000%) and they have reduced their PPC spending from $5000 to $0 per month!
"With the continuing search engine optimisation support from Apex, we will achieve more top rankings for our targeted keywords, we will likely stop our PPC campaign within 2 or 3 months when more visitors are coming to our web site from the free search ranking results"
There are 56,000,000 web sites are competing the keyword "coaching business", www.corprat.com has a #3 position which converts thousands of sales every month.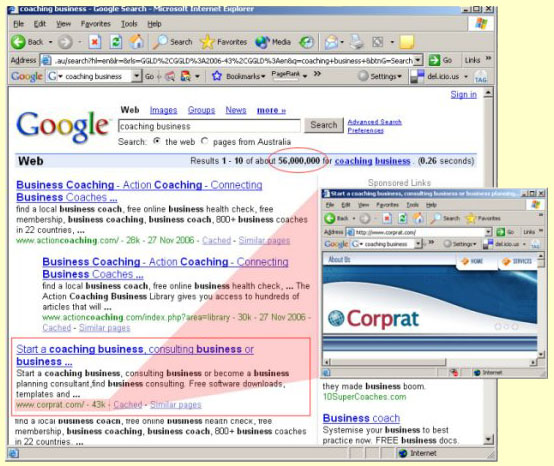 Client #4 – www.internationalfilmschool.com.au
Since signing on with Apex Pacific, Sydney International Film School have top 10 ranking positions for over 50 keywords! This has allowed them to access an international market that they would not have been able to achieve by using other forms of advertising. Since commencing Search Engine optimisation they have been able to reduce their Pay Per Click budgets considerably as they were getting enough traffic through the 'free' search results.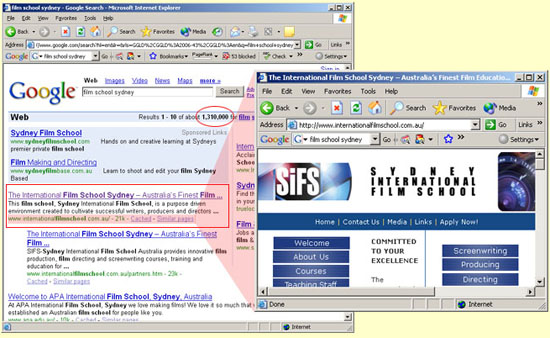 Duncan Thompson-Marketing Director of Sydney International Film School- www.internationalfimschool.com.au

Some of these clients are paying just $299 per month for their internet marketing service and are now earning OVER $1000 PROFIT every single DAY! It is a return of 100%.


Client #5 – www.isotechsolutions.com
Isotech Solutions wanted to be in the top two pages for keywords related to printer servicing. They now have 64 keywords in the top 20 position in the search engines Google, Google(uk), MSN(uk) and Yahoo(uk).

Alan Johnson- Owner of Isotech Solutions- www.isotechsolutions.com

You Need It Now More Than Ever...
How many visitors are you going to get if you have a top #3 position on Google with 6,420,000 competing web sites?
Client #6 – www.5starwarranty.com
Bill Small from 5 Star Warranty was looking to get the edge over his existing competitors when selling his new car warranty product. Because the websites ranking at the top of Google are generally perceived as market leaders, his brand reputation was increased and he was able to attract better clients.
There are 6,420,000 web sites are competing the keyword "new car warranty", www.5starwarranty.com web site has a #3 position without spend a cent.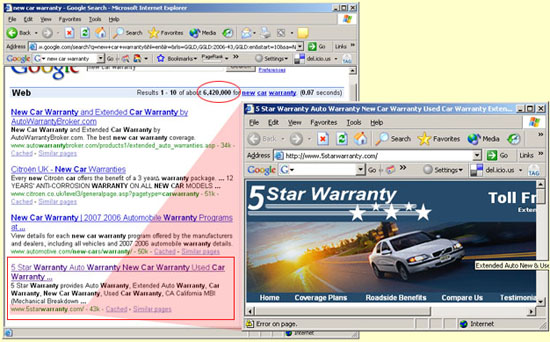 Bill Small- Owner of 5 Star Warranty- www.5starwarranty.com

What are you waiting for? 10 customers ONLY !


10 customers per month ONLY

Because we have a limit of resources, we can only accept 10 customers per month in order to provide the quality service to our clients and guarantee our results. If you would like your web site to be shown up on the top 20 positions of Google, Yahoo and MSN in the next 3 - 6 months, please sign up today . Because we will only accept 10 customers, you must be quick to take advantage of this special opportunity.
Top 20 positions on Google, Yahoo and MSN Guaranteed!
As you know no one can guarantee top 20 position on search engines, however, with our unique technology, knowledge and experience, 98% of our service clients have achieved top 20 positions in less than 6 months! We would like to offer this guarantee to all of our clients: we will guarantee a minimum 20 keywords will achieve top 20 positions on Google, Yahoo or MSN. Otherwise, we will continue to work on your website FREE of charge until we can bring you these results.
You simply can not lose!
You don't need to waste your time and money to shop around, our proven top ranking results are your GUARANTEE !! Please simply fill out the form below to start driving traffic to your web site today!


Silver

Just /mo.
or yearly

| | |
| --- | --- |
| | Promote 10-20 keywords |
| | Optimisation of all Meta Tags |
| | Optimise up to 10 pages with keyword enriched content |
| | Website Stats Tracking System |
| | SEO Copywriting recommendations |
| | Search Engine Submission |
| | Directory Submission (up to 30 Directories) |
| | Link Building up to 20 requests per month |

| | |
| --- | --- |
| | Promote 25-50 keywords |
| | Optimisation of all Meta Tags |
| | Optimise up to 25 pages with keyword enriched content |
| | Website Stats Tracking System |
| | SEO Copywriting |
| | Search Engine Submission |
| | Article Submission |
| | Directory Submission (up to 60 Directories) |
| | Link Building up to 35 requests per month |
| | Provided top 20 position guarantee for minimum 10 keywords |

Platinum

Just /mo.
or yearly

| | |
| --- | --- |
| | Promote 100+ keywords |
| | Optimisation of all Meta Tags |
| | Optimise 50 or more pages with keyword enriched content |
| | Website Stats Tracking System |
| | SEO Copywriting |
| | Search Engine Submission (100's of search engines) |
| | Article Submission |
| | Directory Submission (up to 100 Directories) |
| | Link Building up to 50 requests per month |
| | Provided top 20 position guarantee for minimum 20 keywords |

Sign Up Now:
For more information about this special offer package, please
Call +1.323.319 6318(US) or +61.02.96623433(AU)
or email: sales@apexpacific.com